Do you want to give your kitchen a new design without doing a total renovation? Renovating outdated kitchen cabinets in a rental is the simplest method. A sizable portion of the kitchen is stored in the cabinets. The entire kitchen will be outdated if the cabinets do.
You should thus be able to update your cabinets in the most economical way possible if you want to have a kitchen that is sleek and contemporary. This blog is for you if you're seeking for ideas to help you update your kitchen cabinets.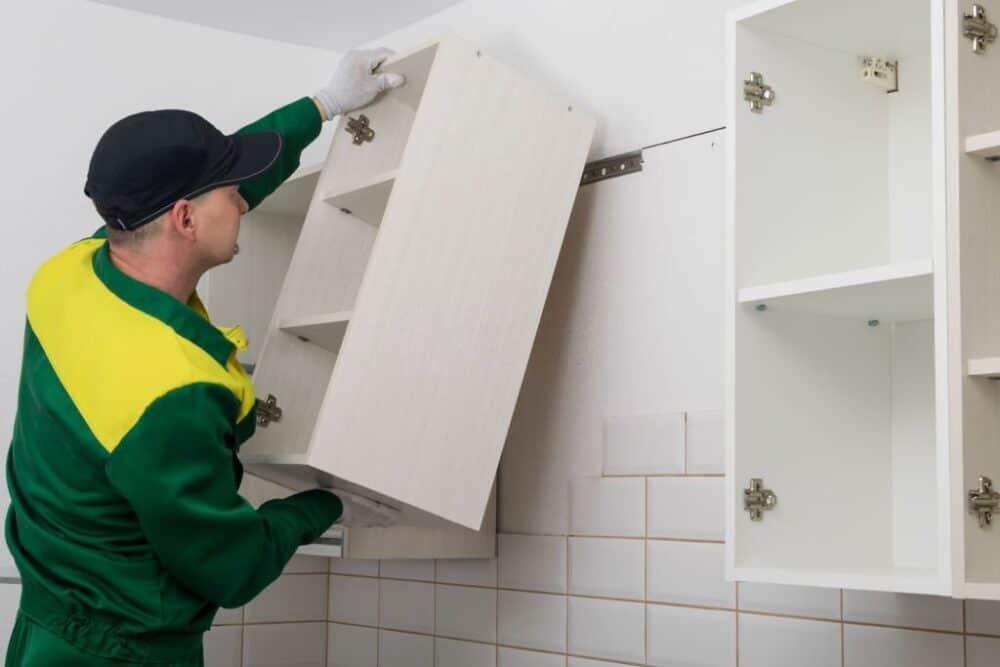 Without having to rip them out and replace them, refacing your cabinets effectively gives them a brand-new look and feel. This method involves taking out the current drawers and cabinet doors, painting, staining, veneering, or laminating the cabinet boxes—there are even peel-and-stick options—and then replacing them with new, coordinated drawers and doors.
It is sometimes a waste to replace cabinet boxes together with doors because they endure far less use and abuse than the doors. Refacing the cabinet boxes and drawers with new doors and repainting the current boxes to match is a more environmentally friendly and economically practical approach.
Any style and colour that best fits your design concept may be custom-ordered for new doors, and the project can be finished in a single weekend. Without the expense and trouble of a comprehensive makeover, refacing may give your kitchen the appearance of being entirely renovated.
If you have a huge blank wall to decorate, you might want to think about including some shelving. They're an excellent method to display your exquisite glassware, an assortment of serve ware, or exquisite cookbooks, plus they'll provide even extra storage to the area. For an added sense of refinement, choose sculptural or simple brackets.
Select Beautiful Greys For Paint
The colour scheme of grey and white is the epitome of a monochrome masterpiece. Consider utilising grey as an alternative to darker colours like black if you're scared to do so. To give your kitchen cupboards and doors some basic dimension, go to the paint store and paint your base cabinets a shade of grey.
The grey-painted cabinets on your kitchen island contrast the white cabinetry, provide a seductive gradient, and give the design of your kitchen cabinets a more curated appearance.
Replace the hardware on your kitchen cabinets for a facelift. Your kitchen cabinets appearance may be significantly changed by replacing the knobs and handles with new ones. Additionally, new hardware can enhance the performance of your cabinet doors and drawers. Whether you go for conventional, modern, or classic hardware designs, updating your kitchen hardware is a quick way to update your cabinet doors and increase the value of your house.
Spray Paint The Old Hardware
You can quickly update the look of your kitchen by updating the hardware on the cabinets. The kitchen's accessories are handles, but depending on the hardware style you pick, a new set of hardware might still cost more than a brand-new kitchen. Consider changing your handles with spray paint if you don't mind their current shape as part of your budget kitchen ideas.
Give your appliances a thorough cleaning inside and out with a mild abrasive cleanser before throwing them out. Then, look at them through the new eyes of a kitchen renovation. Use your appliances again, including the kitchen sink, if they're still functional. Then buy a gorgeous new mixer tap with the money you save.
Play Around With The Lighting
Lighting fixtures are utilised for more than just illuminating a space. You can also utilise lighting fixtures to change the mood of your kitchen because they are available in a variety of designs, shapes, and colours nowadays. Play around with different lighting fixtures to discover which ones suit your kitchen best because you'll have a variety of alternatives to select from.
Consider adding chandeliers with gold accents if your kitchen is white. These accessories will give your kitchen a contemporary, clean design while also adding a touch of glitz. You may give your kitchen island a sleeker, more defined appearance by hanging black pendant lights over it.
To find the finest kitchen lighting material and installation choices for you, speak with a professional electrician. They can help you choose the appropriate lighting for the style of kitchen you wish to create. You may then make sure that your food preparation is safe and has appropriate lighting.
Before visiting your neighbourhood cabinet store, you probably already have a certain door design in mind, but if you're trying to save money, it's advisable to choose two or three possibilities and compare the prices. The cost of your cabinets might vary significantly depending on the door design you choose.
Inset and raised panel door designs nearly generally cost more. Shaker-style doors are frequently less expensive, although this isn't always the case. Depending on the cabinet maker, it could change. Slab door fronts often cost less than other types of door fronts, which is ideal for frugal homeowners constructing a modern or contemporary kitchen.
Like the appearance of open shelves but your room isn't set up for it? Or maybe you adore your cabinets but would also like to display some of your favourite dishes? Can you perform both tasks? Yes, you can conceal your belongings safely behind a door and still display them if the door is made of glass. You may even choose plexiglass if DIYing this and having trouble cutting glass.
On Top Of The Current Cabinets, Add More Cabinets
You may fill the gap and give your kitchen a more unique design by placing smaller cabinets above each of the already-existing cabinets. This is a simpler project to take on if you are painting because the finish does not need to match. Check your near construction supply store.
This remedy, which may or may not be a bit pricey depending on how many cabinets you have, might be a great deal less than purchasing brand-new cabinets for a bespoke kitchen. Install (or create) boxes for open storage, if you can't find (or don't like) the door design.
Pull-Out Cabinet Drawer Installation
A fantastic method to upgrade your current cabinets is to add new pull-out drawers and lazy susans to maximise storage capacity in addition to adding new hinges, hardware, and drawer glides. Deep drawers work perfectly with the pull-out drawers that we added below during a recent refurbishment.
Pull-out drawers are available in a range of sizes and may be purchased from the market and installed in your current cabinets. You can easily modernise your kitchen with this and give your current cabinets a new look.
Painting the interior of your cabinets is one of the most well-liked kitchen cabinet remodelling concepts. This is a terrific method to quickly update your cabinets without the need to replace them. Use a glossy, easily maintained paint for optimal effects. To make the interior of the cabinets stand out, you may even select strong hues like navy or black. You may choose a less reflective, more subdued finish if you are unwilling to go for a glossy one.
Sand down any rough edges and take off any old paint to ensure that your paintwork turns out beautifully. There are several cabinet door makeover ideas that you may try when it comes to the exterior of your cabinets. Your cabinets may quickly seem brand-new by changing the hardware or installing new door panels. But if you want a whole makeover, painting the inside of your cabinets is a quick and inexpensive method to do it.
Kitchen decluttering is the largest change you can make and is good for your head and your bank account. Before you begin, resolve to be ruthless and discard, recycle, or donate everything you no longer use or require. Break the task up into manageable pieces, and work on one cupboard at a time.
Clutter-free surfaces will maximise limited workspace while making the entire area appear more streamlined and spacious. To truly aid in keeping you structured, keep an eye out for a pan lid organiser that you can place inside cabinet doors and over-the-door spice racks.
Consider how you use the area and arrange it accordingly. For example, create a breakfast station with a kettle, toaster, and coffee nearby. Maintain a rack of tea towels near the sink.
Utilise mobile cabinets to convert difficult-to-reach locations into more reachable storage areas. Both fashionable and practical, this kitchen cabinet makeover. A retractable door can easily conceal pullout towel racks and a full-extension lazy Susan, which assist make the most of a corner and offer more storage than typical locations.
Kitchen Furniture You Can Mix And Match
It's crucial to make the appropriate furniture investments since you spend a lot of time in your kitchen preparing meals, eating, and even entertaining guests. If you have comfy chairs and tables, eating breakfast as a family at the buffet or hosting guests will be more pleasurable.
Take it up a level by mixing and matching various pieces of furniture as opposed to using items of furniture that are the same style or from the same manufacturer. Your kitchen may seem more interesting and exciting with mismatched furnishings by keeping the room from being too simple or boring.
Limit your choice of colours and materials when mixing and matching kitchen furnishings to prevent the room from looking crowded. When choosing which furniture to add to your kitchen, you should ideally keep things to no more than two colours and materials. 
This really simple approach will give the appearance of a full-fledged kitchen remodel: To raise the contents of glass-front cabinets into art, hang wallpaper at the back of the cabinets. Here, green and white geometric wallpaper lends a subtle contrast to the kitchen's virtually all-white decor.
Add Doors And Drawers Inserts
Including door and drawer inserts in your kitchen remodel is one of the easiest and most efficient ways to update it. Without having to replace them, this will give your kitchen cabinets a whole new appearance. You can simply locate an insert that suits your demands for updating your kitchen cabinets given the wide variety of colours, materials, and styles available.
It is not necessary to hire a professional to install door and drawer inserts because the process is quite simple. Measure the inside space of the cabinets to begin started, then purchase an insert that fits the dimensions. Once you have the insert, installing it yourself is simple and just requires a few common tools.